A Saturday with Lita-Luise Chappell and Vere Chappell
May 11, 2019 @ 9:00 am

-

6:00 pm

$50.00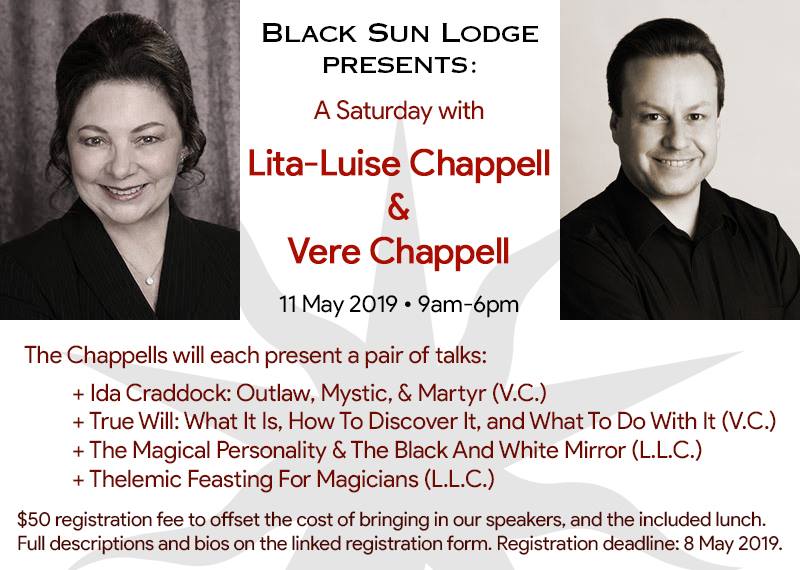 (Cleveland, Ohio) Join Black Sun Lodge as they welcome us for a weekend of classes: "A Saturday with Lita and Vere Chappell" We will be presenting the following four talks:
The Magical Personality & The Black And White Mirror (by Lita-Louise Chappell)
The key to positive magical results is a well-prepared and developed magical personality that paves the way. There have been many people who have specifically contributed to the development and understanding of the personality and seven of them will be discussed, with special emphasis on Franz Bardon and his Black & White Mirror. Each attendee will receive a copy of the questionnaire, which has been expanded to cover all 600 personality traits that humans possess, and matched with an elemental aspect. When the questionnaire is completed and the results are analyzed, they will reveal which traits need to be boosted and others constrained, in order to bring the totals into closer balance. Balance being the strength by which all magical workings are enhanced. When one learns to control the elements within, one will be infinitely more prepared to deal with the elements without.
Thelemic Feasting For Magicians (by Lita-Louise Chappell)
When we recite in the Creed of the Mass, that "meat and drink are transmuted in us daily into spiritual substance," we are proclaiming a special benefit that adds to our overall being. We know of the benefits that come from eating healthy food, but how do we choose foods which will influence a magical intent? This presentation is an introduction into foods with their magical correspondences and how the addition of working with foods magically may benefit the magician. This power point presentation will include an analysis by a food's element, ruling planet, astrological sign, and corresponding Chakra of influence with hundreds of examples. The research presented is what culminated in The Thelemic Cookbook: Cooking with Correspondences. This book will be made available, along with a master Excel list of all edible foods and their magical correspondences.
Ida Craddock: Sexual Outlaw & Erotic Mystic (by Vere Chappell)
Ida Craddock was a late-nineteenth-century advocate for women's rights who helped hundreds with her sex counseling and marriage manuals. She was also an avid occultist who reported having sexual intercourse with angelic beings. Her work was highly praised by Aleister Crowley, but condemned by moral purists of the time. Although suffering exile, commitment to an insane asylum, and hard labor in prison, Ida's courage and refusal to compromise her beliefs would lead to her ultimate triumph, even in death. Come learn about this fascinating woman and her writings on sex magick, mysticism, belly dancing, and intercourse with angels.
True Will: What It Is, How To Discover It, and What To Do With It (by Vere Chappell)
The concept of "True Will" is of paramount importance to Thelema. Without a solid understanding of True Will, magick is a hit-or-miss proposition. The first task of every Thelemite should be to discover his or her True Will. Although each individual must accomplish this discovery for him or herself, the O.T.O. may assist by providing a supportive environment and tools for the magician to use in his or her quest. To this end, Frater SLQ will present a workshop entitled "True Will: What It Is, How To Discover It, and What To Do With It." We will cover the the theory of True Will in terms of Thelemic doctrine and psychology, explore practical techniques for discovering it, and discuss what to do with it once you've found it. Valuable for beginners and experienced magicians alike.