The Book of the Law
, and our new Aeon. For Brother Vere and myself, we wanted to discover the environment in which Aleister Crowley found himself at that time; to take our sacred
Book of the Law
and read it in the country of its birth, and to witness for ourselves the Stele of Revealing from which Rose and Aleister drew inspiration.
The only specific plan for all of us was to meet at noon on each of the three successive days, April 8, 9 and 10, to celebrate The Three Days of the Writing of the Book of the Law. Aside from that, we each strove to do and see as much as we possibly could, experiencing those things that would more closely give us insight or enhance our Thelemic perspectives.
On the morning of April 8, whomever was in Egypt for the event was to meet in the lobby of the Mena House Oboroi, a beautiful 5-star hotel located right across from the Giza Pyramids. By noon, the following people had gathered in the hotel foyer: Brother Dionysius and Sister Valerie from Amsterdam, Netherlands; Sister Rhonda and Brother Gordon from Vancouver, Canada; Sister Annette, Brother Brent and Brother Daniel from Australia; Sister Xenia, Brother Alexey and Brother Nadav from Israel; Brother Peter, Brother Zacharias and Sister Kristina from Sweden; and Sister Mary Lynn, Brother Jason, Soror Ashera, Frater Hrumachis, Brother Vere and myself from the U.S. — nineteen people from six different countries and four continents.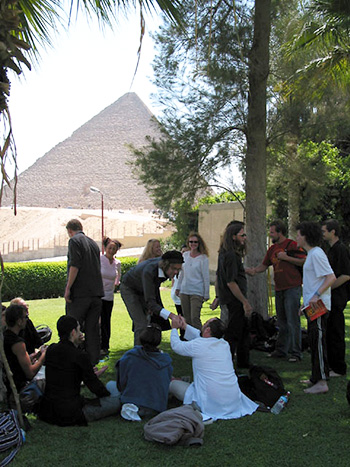 A perfect grassy spot on the garden grounds had been found with the Great Pyramid standing in stately witness across the plateau, while we sat quite comfortably in a big circle under the shade of several palm trees. We began by going around the circle introducing ourselves. Most gave their legal name, their magical name, what country they were from, what body they were from, and if they served their body in any officer position. Most attendees were body masters, secretaries or treasurers.
Frater Hrumachis set up a small central altar and incense was lit. He also began by doing an invocation for this special occasion. Then we read by going around the circle, each reciting a verse from the First Chapter, until it was completed. It was such a wonderful feeling to be sitting there sharing in the momentous occasion with brethren from around the world. I could see in everyone's face the same enthrallment.
Right afterward, we got the idea to call Hymenaes Beta and have him join us in our revelry. Brother Vere called him with his cell phone and of course we woke him up, as he was half way around the world in another time zone. Nonetheless, he seemed amenable to the occasion so we all called out "93!" into the phone. After Brother Vere signed off, we all did midday Resh and then lined up for group photos. Excited to get to know one another better, we all walked several blocks to a nearby restaurant for lunch.
After lunch we all split up to go exploring in Cairo, but we all agreed to meet later that evening at a downtown restaurant for dinner. After a delicious dinner we walked around a bit as the town comes more alive after dark. Admittedly the temptation was too great. We each spent time at a nearby pastry shop filling up small trays of assorted Baklava and cakes to take to a local Ahwa (outdoor coffee house) to lounge and feast on again. We gathered in a colorful tent-like structure along the street. Some also partook of the local shisha (tobacco smoked in a water pipe) with one of two tobaccos, one soaked in molasses and the other soaked in apple. Something surely, we thought, Crowley must have also indulged in.
On the second sacred day at noon, we reassembled for our second day of the reading of The Book of the Law. We gathered once again in the same grassy area; however, today the call to prayer was even louder and longer as Friday's are to the Muslim what Sundays are to Christians, and prayer is delivered more fervently. So as not to delay our noon reading window, we decided to move further around the back of the hotel to a more private and quieter place, which ended up being just as pleasant if not more so.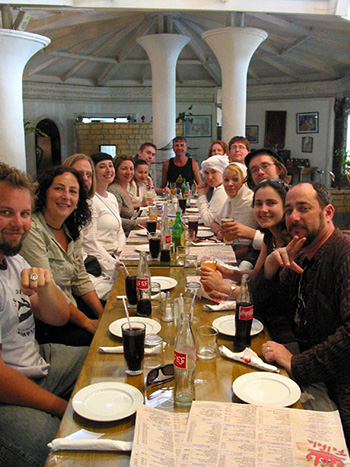 We began as before with a brief invocation by Frater Hrumachis, with incense, and then the reading commenced going around the circle. After the reading we agreed to call Sabazius. He did not answer his phone, as it was in the middle of the night for him, but we did leave a recorded message with our "93" greeting. We followed the reading with passing around a book for everyone to list their names and emails, so we could share our comments and pictures of the entire event. We followed that by performing midday Resh and again going out to a local restaurant to feast.
That evening we all met at the Oasis Hotel, where Soror Ashera had arranged to have a dinner and belly dancing show in the hotel's nightclub for the entire group. We had a great dinner and entertainment began with a singing duo, and later featured an Egyptian Dancer "Sozi." At one point Sozi came into the audience to our table, pulling Brother Peter up to dance with her. He began to dance with so much jubilation of arms swinging and feet kicking up, that he literally stole the show. He received a wild applause from everyone in the house.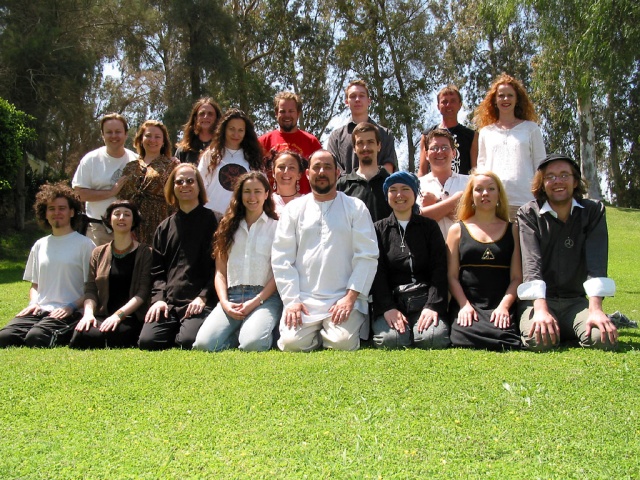 For our third day of the reading of The Book of the Law, we once again found our familiar spot on the grassy grounds of the Mena House. Frater Hrumachis again performed an opening invocation, incense was lit and we read the Third Chapter, going around the circle until, it too, was completed. It had all seemed too short. We passed around our individual Books of the Law to have everyone sign the others, to commemorate the occasion. Even within the short time that we had met, we could sense such a strong bond between us all. Many had tears in their eyes as we shared hugs of brother and sisterhood.

Midday Resh was performed and we all went to lunch again. After that, most everyone decided to reassemble downtown at the Cairo Museum to once again look upon the Stele of Revealing. Brother Gordon and Sister Rhonda had done some research upon arriving earlier in Egypt, to learn that the Stele of Revealing had been discovered in a cache in the village of Gournah, where it had been moved from its original location in a hillside tomb near the Temple of Hatshepsut, which lies just south of the Valley of the Kings. It was the intention of our group to be able to get into the glass case where it was on display and be able to look at its reverse side. However, the director of that section of the museum was on vacation, so it was not allowed.

This last day for many on the pilgrimage still held a surprise, for everyone was about to be shown something we didn't even know still existed, the coffin of Ankh-af-na-khonsu! Sister Xenia had been the one to find it in a side hall of the Egyptian Museum. Sure enough, there was a nameplate with his name and the date said it was from the XXVI Dynasty, the same as the Stele. The color was very good on the outside, the lacquer-like finish giving it a golden-orange color. Time and its transport had created chips off of the colorfully painted plaster and cracks had developed, but the overall effect was impressive. What a wonder to behold a painting of what once resembled the look of this unique individual. Finally, a face to go with his mysterious words!

The trip for everyone had finally come to an end, though too soon. Deep friendships had been formed. A taste for mystery had been rewarded. We had not only seen the Stele of Revealing, we had seen the Priest of the Prince's last resting sarcophagus. The sacred truths that we had wanted to be sure of, had been confirmed. And like most pilgrims who answer to the call of spiritual yearning, the holiness and the mystery had found its way within us, and we would never be the same again.

Traveling to sacred sites in search of theological confirmation can bring on a great anticipation of expected authenticity. To the spiritual traveler, picture taking is never quite enough. The place must be more than just visited, it must be experienced. An explorer who feels the urge to know a sacred truth more deeply becomes more than just a traveler. By virtue of their longing and commitment to make the journey and by the desire to take in that sacred knowledge, they become a pilgrim. So it was for nineteen O.T.O. pilgrims, by going to Egypt for April 8th, 9th, and 10th of 2004, to celebrate the 100th Anniversary of the writing of the