The Town with the Feather Crest
To be released early spring 2022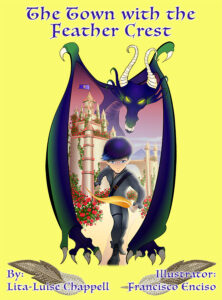 This long illustrated poem is for children ages 5 – 12. A young man in his travels comes to a beautiful castle. But all is not what it seems. At the castle gate he meets the guard who tells him about the spell that is over the town. The guard senses that the lad has a good heart, and convinces him that he is the one to defeat the dragon who is stealing townspeople away. So the lad sets off knowing where to go, but is not entirely sure how to accomplish the task. It involves the feather of truth, which can change everything, but it is the lad's ingenious delivery system that wins the day. The book teaches empathy for the greater good, courage to go forth in the world, and ingenuity to fulfill a difficult task. It also includes a short dictionary at the back of the book with words introduced in the story for increasing vocabulary usage. Along with Lita's enchanting poem are the images by talented Los Angeles illustrator Francisco Enciso. To be released on the Amazon Kindle Kids Edition for easy downloads.

Pearl and Garridan: A Roma Love Story
To be released summer 2022
Two stories of a romantic fantasy come together in one book about Roma Travelers set in 1871. The first story tells of a romance between a young girl named Pearl who travels in a vardo wagon with her family, and her lover Garridan who lives in the ancient and haunted Hoia Baciu Forest of Romania. They become trapped in that forest together by a mysterious overlord named Spiridon and his overseer Varujan. Pearl and Garridan must bargain their way out, but cannot do it without the help of Pearl's family and a precise number of local townspeople.
The second story begins after they have escaped, and tells of Garridan's exceptional talents as a wood carver who brings new life into a Romanian Village. Unbeknownst to him, he has come under the spell of four ancient spirits that imbue and enchant their magic into four walking sticks that he carves. Each stick can both aid the one who needs it, and harm the ones who don't. It is a heart-warming story about Romanian culture, a secret Pearl's family carries that can dispel the spirits, and how the town rewards them.
The Rose of Rhodes
To be released autumn 2022
The Reynards are on to another mystery! This time several years have passed, and now Melodia is almost six years old—old enough to join Chante, Lucien, and Gervais on an adventure. Gervais, Lucien's father, has retired from teaching and moved in with them to help support the family and enjoy his granddaughter. Then a call comes from UNESCOs Paris office to their top international detective, Lucien. Fifteen items have been stolen from an archaeological dig at the Acropolis of Rhodes, and they assign Lucien to investigate who the thief is, and if possible, to have the items returned.
As the family settles into a B&B in old Rhodes City, Lucien has promised Chante that the work of his investigation will be balanced with Melodia also experiencing an enjoyable first trip. They engage a personal tour guide, Chloe, who shares her knowledge of the island, including the historic Hospitaliers of Rhodes, while they tour the island. But can she be trusted?
In the meantime, the entire archaeological team is questioned including the three guards, but with no leads it has the Rhodes police and Lucien stumped. Only by impeccable detective sleuthing is Lucien able to pick at the slender threads, which lead him to a mystery organization with the owner only having a moniker instead of a real name. Along with Chante and Gervais' excellent research skills, and Rhodes Detective Lex Nomikos' help, does the person behind the theft slowly come to the fore. Who is the Rose of Rhodes, and why is a single sparkling broken chain of gold hearken to an ancient story of the goddess Harmonia?
Isis' Secret Treasure
To be released winter 2022
Professor Sheridan Chase wasn't always a professor of African Studies at the University of California at Berkeley. He was forced to retire from his profession as an Egyptian archaeologist when he hurt his back in an automobile accident. What no one knows, is that behind the distinguished role of professor, long ago he discovered a love for the ancient Egyptian goddess, Isis.
After purchasing a set of ancient Egyptian canopic jars from an import shop in Berkeley, his cat knocks over one of the jars which loosens a small papyrus that had been placed inside one of the jar lids. Once translated, the papyrus reveals both a warning and an ancient clue to a possible treasure. Professor Chase finds out that the jars came from a small island in the middle of Lake Nasser in southern Egypt, called Qasr Ibrim. What intrigues him is that the clue also hints that there is a temple to Isis on the island, but no temple to Isis has yet been found. Which means it must be still there, waiting to be discovered.
Since Professor Chase no longer has the physical endurance to instigate an official dig, he enlists one of his top students, Benjamin, to search the island and report back with any leads that he might find. But three days after Ben has been exploring the island, he disappears. Stunned and worried, now the professor has no option but to go himself. But Ben's best friends Audrey and Nathan, convince Professor Chase that they are going too, so the three of them set off to find Ben and the hidden temple. But their problems do not end there, as they search deep under centuries of ruinous tunnels, surrounded by water.