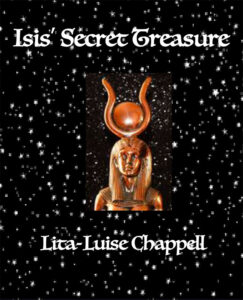 Isis' Secret Treasure
To be released fall 2023
Professor Sheridan Chase wasn't always a professor of African Studies at the University of California at Berkeley. He was forced to retire from his profession as an Egyptian archaeologist when he hurt his back in an automobile accident. What no one knows, is that behind the distinguished role of professor, long ago he discovered a love for the ancient Egyptian goddess, Isis.
After purchasing a set of ancient Egyptian canopic jars from an import shop in Berkeley, his cat knocks over one of the jars which loosens a small papyrus that had been placed inside one of the jar lids. Once translated, the papyrus reveals both a warning and an ancient clue to a possible treasure. Professor Chase finds out that the jars came from a small island in the middle of Lake Nasser in southern Egypt, called Qasr Ibrim. What intrigues him is that the clue also hints that there is a temple to Isis on the island, but no temple to Isis has yet been found. Which means it must be still there, waiting to be discovered.
Since Professor Chase no longer has the physical endurance to instigate an official dig, he enlists one of his top students, Benjamin, to search the island and report back with any leads that he might find. But three days after Ben has been exploring the island, he disappears. Stunned and worried, now the professor has no option but to go himself. But Ben's best friends Audrey and Nathan, convince Professor Chase that they are going too, so the three of them set off to find Ben and the hidden temple. But their problems do not end there, as they search deep under centuries of ruinous tunnels, surrounded by water.
Curious and Unusual Short Stories
To be released spring of 2024
The twenty-eight original short stories included in this book are all fictional and include created myths, fables, parables, folktales, vignettes, fairy tales, and emotive sketches, drawn from world travels, fascinating characters, peculiar dreams and a vivid imagination. They are divided up into seven different categories: animal tales, criminal conduct, extraordinary events, fairy tales, puzzling places, states of mind, and unusual individuals. They run from 564 words in only two pages, to 4,052 words over eight pages. All of them have three things in common: they focus on a singular dramatic event, contain few characters, and leave the reader with a memorable feeling. The curious and unusual combine to make this group of stories unforgettable.
Panic in Patpong
To be released fall of 2024
Programmer Cody Hudson works for an information technology business called Track IT. He and the company's employees are in Bangkok to celebrate the sale of a specialized software package for one of Bangkok's most prestigious gem and jewelry stores, KC Gems. Cody and his two best working buddies, Charlie and Evan, are directly responsible for developing the specialized Point of Sale program. Perhaps it is because Cody is a typical nerd, who is shy, quiet, naïve about the world, and totally devoted to his wife Kelsie at home, that Charlie and Evan take it upon themselves to try and widen his horizons by introducing him to Bangkok's entertainments.
Trouble soon begins when the computer system at KC Gem's freezes. Is it the new software or is something else at play? When Cody begins to figure out the problem, he ends up learning more than he can handle. He is pursued, robbed, and lied to, as a world of kidnapping, blackmail, and smuggling quickly overwhelm him. Is there a spy involved that is causing the problem, or is the spy the answer to his problem?
More Titles Coming Soon
The Santon Sacrifices