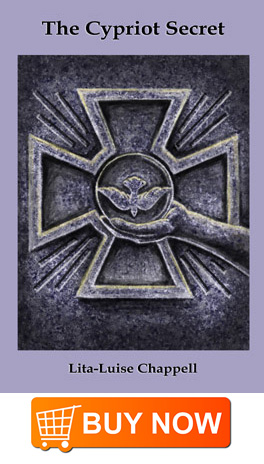 The Cypriot Secret
Book 3 of The Inspector Reynard Series
In this third volume of The Inspector Reynard Series, Chante, Lucien and Gervais Reynard decide to take a holiday and follow the only clue they have concerning the secret they discovered in Mystras, Greece. All they know is that when Lord Cantacouzenos died in 1380, his wife Isabelle Lusignan, who they know had the secret, left for Cyprus to rejoin the Lusignan family. Where did she go on Cyprus, to whom did she tell the secret before she died, and how did it find its way back to Greece? Lucien realizes that Cyprus is well-known for antiquities smuggling, and as an experienced police inspector who specializes in the recovery of art and antiquities, he decides to offer his services to the director of UNESCO on the island. The Reynards are asked to pose as tourists and are assigned Aleixo, a part-time agent who acts as their driver and interpreter. They tour the island's archaeological sites and museums, searching for lost items and leads on smugglers. While the Reynards become educated on the history, culture and politics of Cyprus, Aleixo brings them a lead about a possible smuggling operation. The more they learn, the more danger ensues, causing the Reynards to rethink their plan. The Cypriot police and UNESCO agents are eventually drawn in to the investigation. As a result of the Reynards' indomitable desire to uncover the secrets of the past, they discover the answer to a long-standing mystery on Cyprus, which in turn leads them to Italy, and then to Malta, where the most surprising answers come from an unexpected source.
Available in Paperback and Kindle formats.
Published 2018 by Templar Media | 418 pages | ISBN: 0996627235 | ISBN-13: 978-0996627238

EXCERPT:
Sir Bouchart leaned back with a final gulp of ale and then slammed the empty mug down on the wooden table. Around him, his fellow knights were also finishing a substantial meal. They were laughing about the haul they had made on their latest raid through the village. The men were fortunate to have found a supply of captured songbirds, which they boiled in wine and honey to make the dish of ambelopoulia.
Continue reading…
REVIEWS:

"The Reynard Family's Adventure Continues in THE CYPRIOT SECRET"
Review by Michael Werckle
The third installment of the Reynard series finds our heroes traveling from France to Greece, Italy, and Malta as they seek further insight into the secret that was revealed to them in the THE MYSTRAS NUN.
Once again, Dr. Chappell creates word paintings of her locations that feel make the reader as if they are experiencing these locales along with her characters. I, for one, felt an immediate desire to see (and taste!) Cyprus for myself!
By this third volume, the Reynard family seem like old friends with whom we are graciously allowed to travel. The kinship that the author elicits between her readers and her characters is one of the great joys of reading these novels. When they are in danger, you fear for them; when they are savoring the fruits of life, you revel with them; when they are pondering life's mysteries and contradictions, you think for yourself.
One of the reasons that I have enjoyed these books is that they have encouraged me a) to reconsider long-standing beliefs, b) to examine why I hold those beliefs to be true, and c) to consider what would happen to me (and the world) if those beliefs were overturned by alternative narratives. Not everything we are told by those considered to be "authorities" is "truth," no matter how venerable or illustrious the sources. These novels adeptly show that discernment and discovery of "truth" is both an individual process and one of humanity's greatest gifts, if we, like Dr. Chappell's characters, choose to exercise it.
If you are a lover of ancient mysteries, exploring foreign locales, intellectual discovery, and good, old-fashioned tales of romance and intrigue, give these books a read. You may even discover something about yourself along the way.
The Inspector Reynard Series