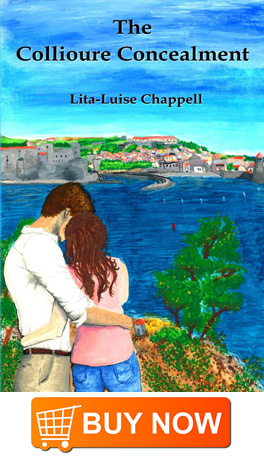 The Collioure Concealment
Book 1 of The Reynard Trilogy
On the southeast coast of France, just north of the Spanish border, lies the quaint seaside village of Collioure. There, a chance meeting takes place between Chante Morgan, an American divorcee, and Lucien Reynard, a sergeant based at Fort Miradou atop the hillside above Collioure. Their romance turns into a dangerous adventure when they discover a Templar secret under the town. Lucien enlists the help of his assistant, Alerion Bellamy, and his father, history professor Gervais Reynard. Chante, Lucien and Gervais eventually realize they have discovered a treasure worth more than gold. But they are not the only ones who want it. At the same time, an elusive thief is operating in the area, Alerion disappears, and a body is washed up on the beach. Could these crimes be related to the discovery of the treasure? Chief Souveterre of the Collioure Police must wade through a string of lies, deception and betrayal, in order to catch the thief, the kidnapper, and finally the murderer.
Available in Paperback and Kindle formats.
Published 2016 by Templar Media | 426 pages | ISBN: 0996627219 | ISBN-13: 978-0996627214

EXCERPT:
Monsieur Beaux Falchan stared at the calm but stern look upon his friend's face and then he saw the gun. He had shared his secret with someone he thought he could trust. They had become such close friends that this turnabout stunned him. They had agreed to be partners so why hold him at gunpoint?
Continue reading…
REVIEWS:

Review by Cyn Wilkes
I love the south of France locale as this suspenseful mystery unfolds I found myself turning the pages faster and faster to discover a satisfying ending. It is clear the author did significant research of the area including lush detail to bring the reader into beautiful Southern France.

Review by Aletheia
The Collioure Concealment is a delight to read. The vivid imagery, development of character, and skillful use of suspense made the story feel fresh and alive throughout. The plot unfolds around a Templar secret buried under the town of Collioure in Southern France, and the gradual reveal keeps the pages turning. Several distinct themes are skillfully woven together in the book. The romantic relationship between the protagonists, Lucien and Chante, is driven by the suspense of the unearthing of the secret, and the intrigue of the contending parties in search of this secret. The story is grounded in the geography of the region, in the history of Southern France, and of the Knights Templar. This combination of fact and fiction, of romance and mystery, creates a gripping narrative that is a pleasure to read from start to finish. Highly recommended!
The Reynard Trilogy
Thelema Now's Harper Feist talks to Lita-Luise Chappell about her Reynard Trilogy series of books. Lita talks about her writing process and finding inspiration. Click below to listen!