Moroccan Yellow Lentil Soup
Lentils have been eaten for over 10,000 years throughout Mediterranean and Asian countries. Some countries prefer their lentils with yogurt, others enjoy them heavily spiced, some add lemon juice, and others purée their lentils smooth. Regardless, lentils are delicious and nutritious any way they are prepared. Here they are in a flavorful soup.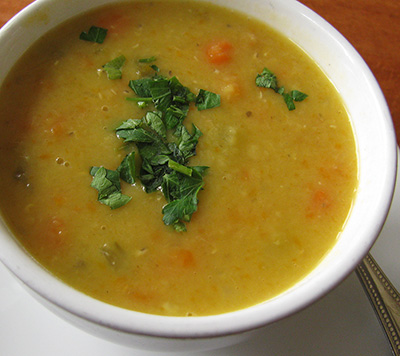 Ingredients
2 quarts chicken (or vegetable) stock
1 1/2 cups yellow lentils
1 cup yellow onion, chopped
1 cup celery, chopped
1 cup carrots, cut into rounds
1 cup tomatoes, seeded and chopped
2 tablespoons flat-leaf parsley, chopped
2 tablespoons lemon juice
1 tablespoon olive oil
1 1⁄2 teaspoons of ground cumin
1 teaspoon fresh garlic, minced
1 teaspoon turmeric, powdered
Salt to taste
Moroccan flat bread
Directions
In a large saucepan heat the olive oil and sauté the garlic, onions, and celery until translucent, at least 5 minutes. Add the turmeric, cumin, carrots, tomato, and the stock. Stir in the lentils and cook for 20 minutes, stirring occasionally until lentils are soft. Add the parsley and lemon juice and cook for 2 more minutes before serving. Serve with Moroccan flat bread.
Correspondences
Lemon juice and lentils are of water. Parsley is of air, and celery and tomatoes are water of air. Chicken meat is earth of air, so its stock is water of earth of air. Olive oil, cumin, garlic, and turmeric are all of fire, and onion and carrot are water of fire. The Moroccan flat bread is of wheat, or air of earth.