In Saratoga Springs, my husband and I opted to stay at the Batcheller Mansion Inn. This amazing Victorian home is like staying in a museum, but it offers a great B&B stay with breakfast. We were instructed by email how to enter the house. We pushed open the heavy wooden front doors and entered a small vestibule. To our right was a closet with a safe within. Having been given the code to open it, we were able to find an envelope with our name on it, containing a key to the front door and to our room.
When we opened the front door, before us was a grand and elegant entry, mostly of finely wrought dark wood stair banisters, chair rails and framing, but what stood out was the large and elegant stair's newel post, topped by an elaborate glass headpiece to a small statue, and had carpeted stairs that led up to the second floor. Our eyes were then drawn to the left, to a large parlor with European furnishings and a wide white fireplace. To the right of the stairs at the end of a long hallway, was revealed the beginning of a formal living room, which we would check out later.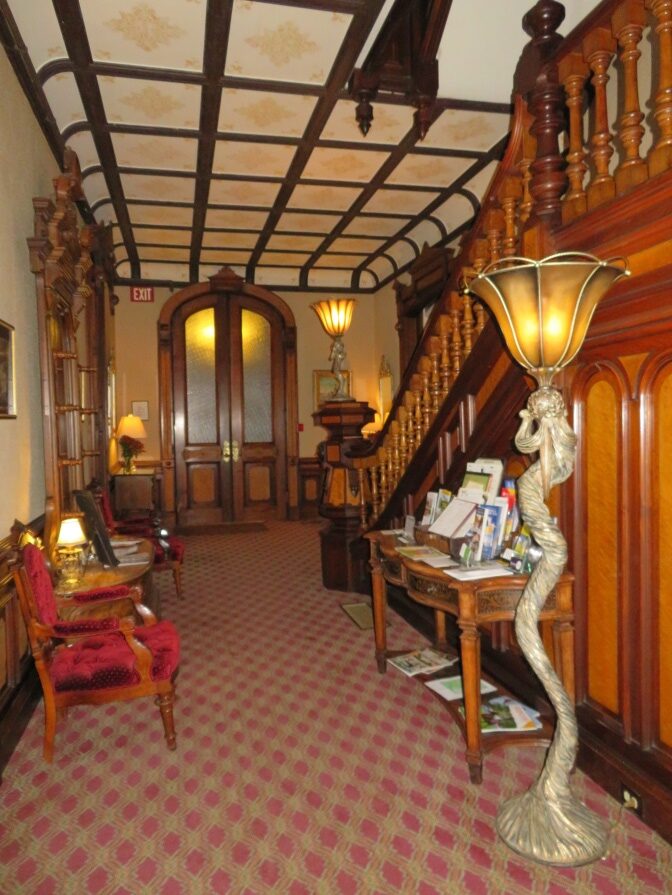 This High Victorian Gothic residence of three stories was built in 1873, for George S. Batcheller and his family. He received an undergraduate law degree at Harvard and became a member of the New York State Assembly. He married Catherine Cook in 1861, and they had three children, but only one, Kate, survived. Kate was schooled abroad but moved back to New York when she inherited the house. Our room was on the second floor and was named for Josephine Amelia Le Saux, whom Kate met in Paris. Amelia came to New York with her, and she and Kate lived together in the house for thirty-three years.
When Kate died in 1943, Amelia inherited the house until she passed away in 1973. Many of the furnishings that Amelia had inherited are in the mansion. The house was bought and shifted from a private residence to a rooming house, and then it fell to ruin until it was bought in turn by several people, restored, and finally opened as an inn in 1994. It now holds many European styles of furnishings of the Italian and French Renaissance and some splashes of ancient Egyptian, since George and Catherine lived in Egypt for a time.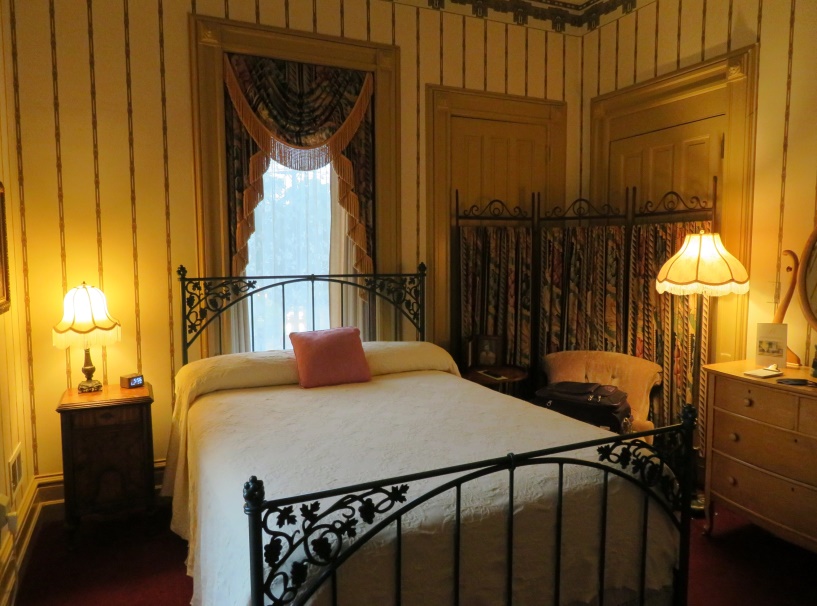 Nine rooms are open for guests to stay in. When we entered our bedroom, the bed was to the right. This charming room is authentically decorated and sits at the front of the house with dual aspect windows. A lovely portrait of Amelia as a young woman is next to the bed. To the left of the entrance is a carpeted hallway that leads to the bathroom.
The bathroom is unusual, as it is round with curved windows out to the side of the house. Even the door to the shower is curved to complete the circle, and within is a modern facility. There was a standing antique closet and a lady's draped dressing table, which added to the period.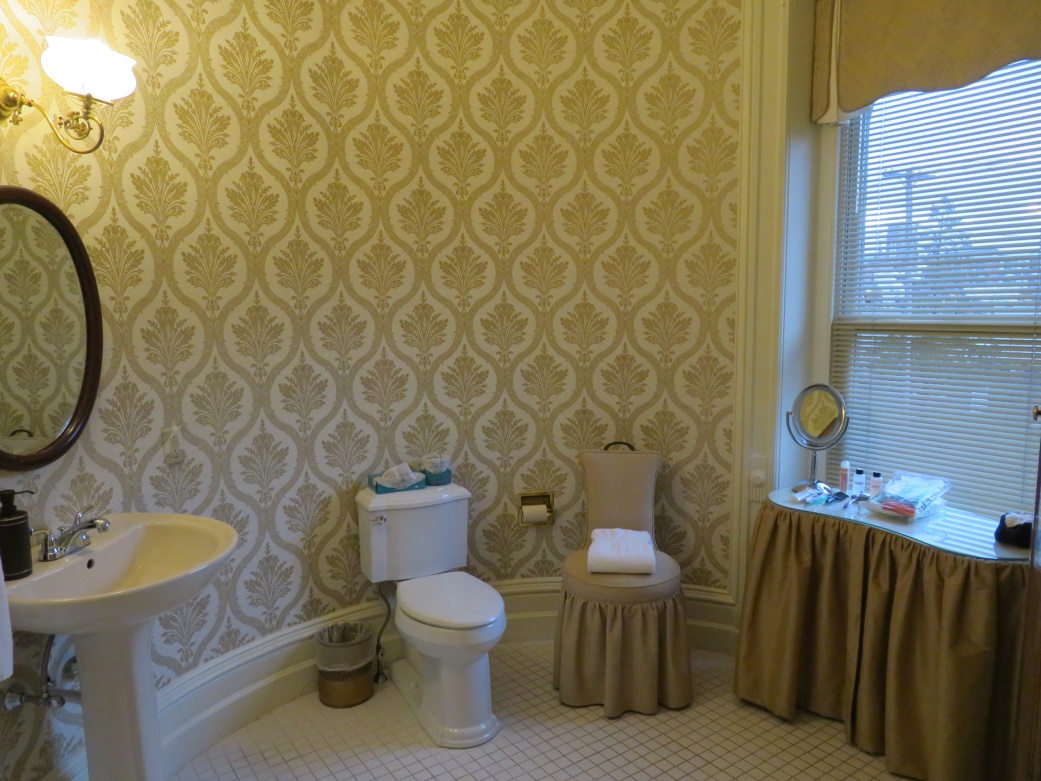 Once we had dropped off our things, we went to explore the public areas of the house. We met Paul, the live-in manager, who resides downstairs. That evening, we had the house to ourselves, so we brought our laptops downstairs to sit in the living room on large maroon leather couches, facing a fireplace and surrounded by rich dark wood furnishings. On a coffee table before us, two large photograph albums told the story of the family.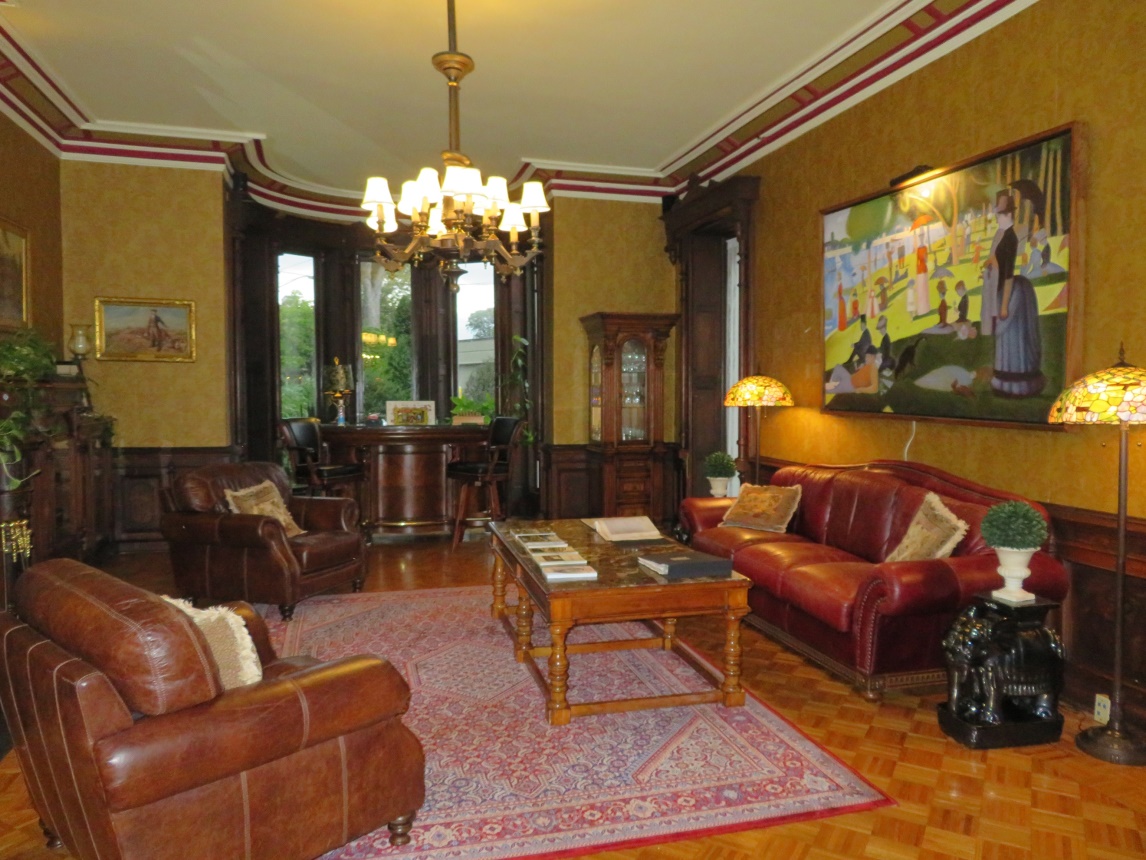 A very fine formal dining room was to the left of the living room, already fully set for a meal on a central large table and surrounded by smaller tables and chairs for couples.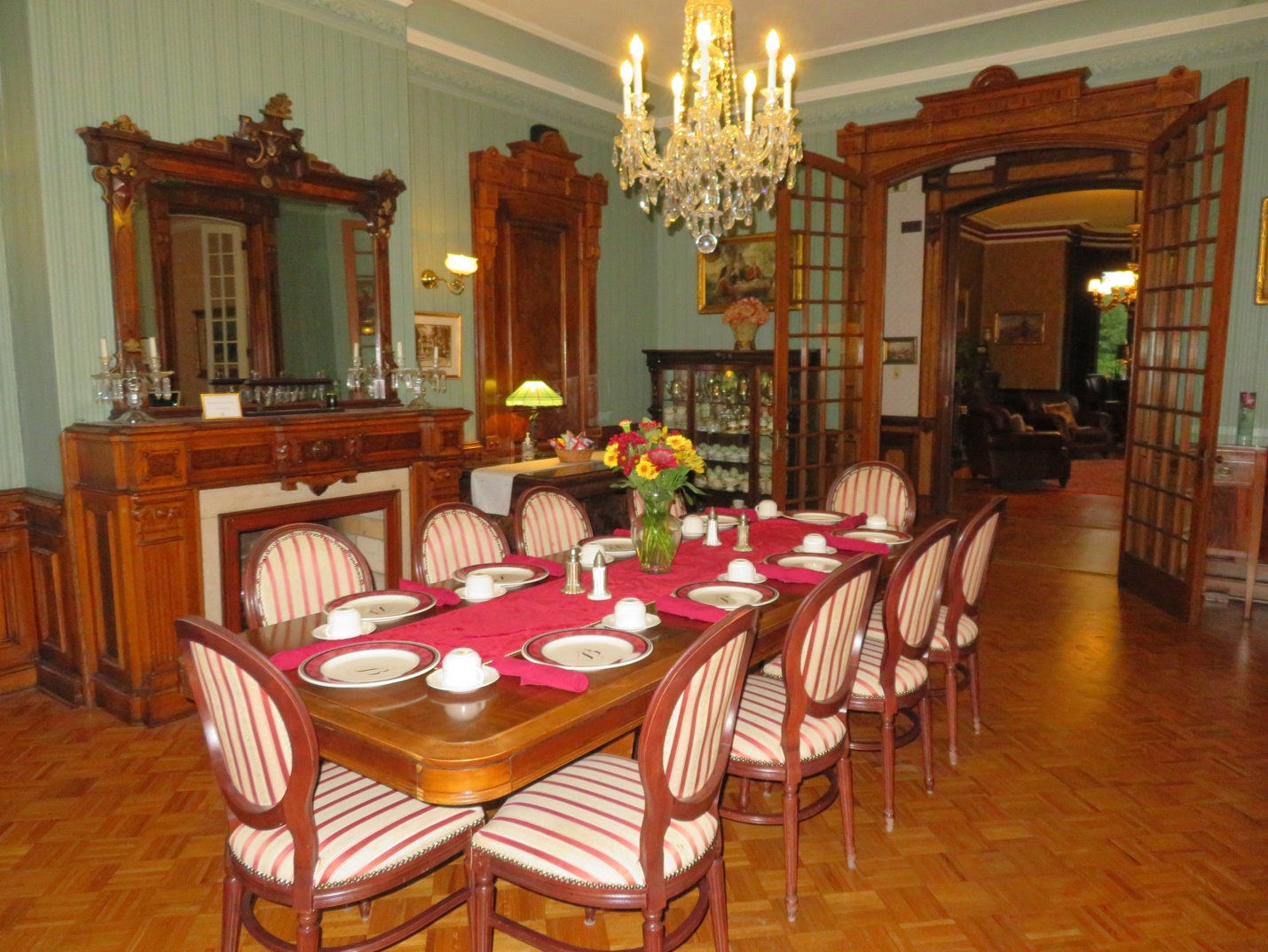 The next morning we met Martha, who provided us with breakfast each morning, served between 8:00 and 10:00. On our first morning, I had scrambled eggs with cheese and spinach, and a yogurt, and my husband had French toast. On our second morning, I had the same thing, it was so good, and he had an English muffin sandwich with sausage, egg and cheese.
The property has parking for guests, and an arbor for sitting outdoors in good weather. The yard was lined with gardens and shrubs, which lent for a private setting. Looking up at the house, one could appreciate the fine architecture of a mansard roof with red and gray slate, and a minaret-like conical tower, giving it a fairytale appearance. Staying here was an absolute pleasure.