We arrived at Belhurst Castle early, so my husband could do a cider tasting in their wine bar. That took all of fifteen minutes, so we decided to walk down from the hotel to the water of Seneca Lake. We walked across expansive grass lawns that surrounded the castle. A wedding had occurred during the day and white chairs were still set up. There were also lovely tall trees, where about a dozen squirrels were scurrying below them, busy collecting fallen nuts for the winter. We sat on a bench overlooking the water. It was peaceful and relaxing.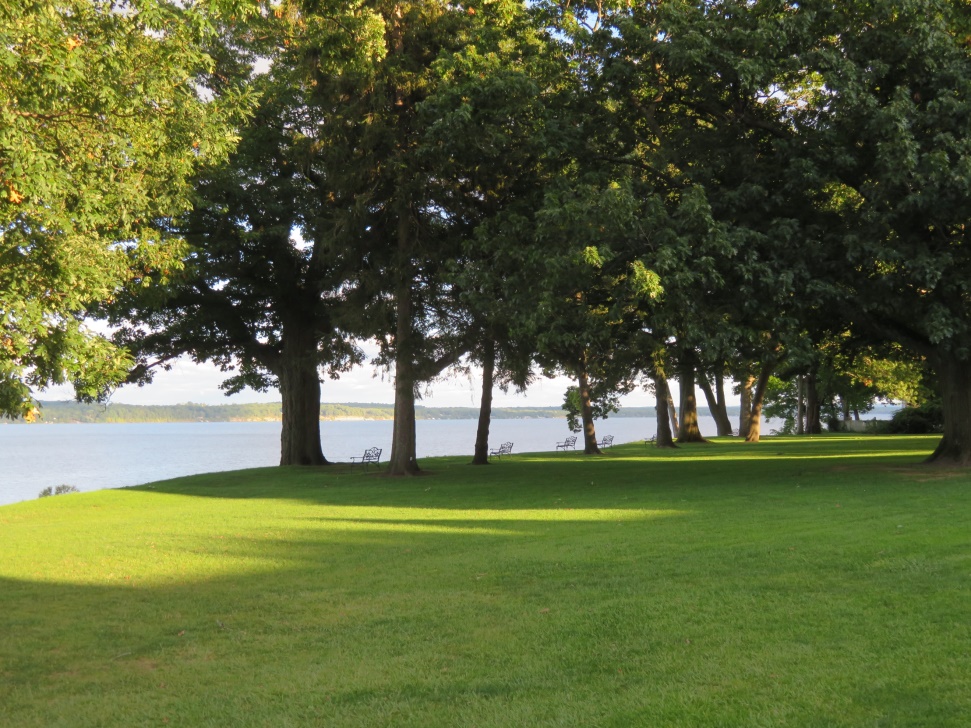 I remembered reading about Belhurst, which is really not a castle, although it might resemble one. It is actually a converted private residence. Originally, the land had belonged to the Iroquois nation, then had been sold to developers, and resold to the Ontario Glass Manufacturing Company. In 1824, the land was divided up by the stockholders and it was sold again to a man named Joseph Fellows, who built the residence, but called it a hermitage. A man named William Bucke lived there for a time. It was later discovered that he had been the treasurer of the Covent Garden Theater in London and had embezzled funds. When he died in 1852, the property eventually was purchased by Harrison Otis, and it was he who named it Belhurst. Others have owned, improved and rebuilt the building. At one time it was a speakeasy and a gambling casino, before becoming a hotel and restaurant. There is a lot more to the history of the house, which can be read on their website.
Parts of the castle were open to view, as in the sitting room below.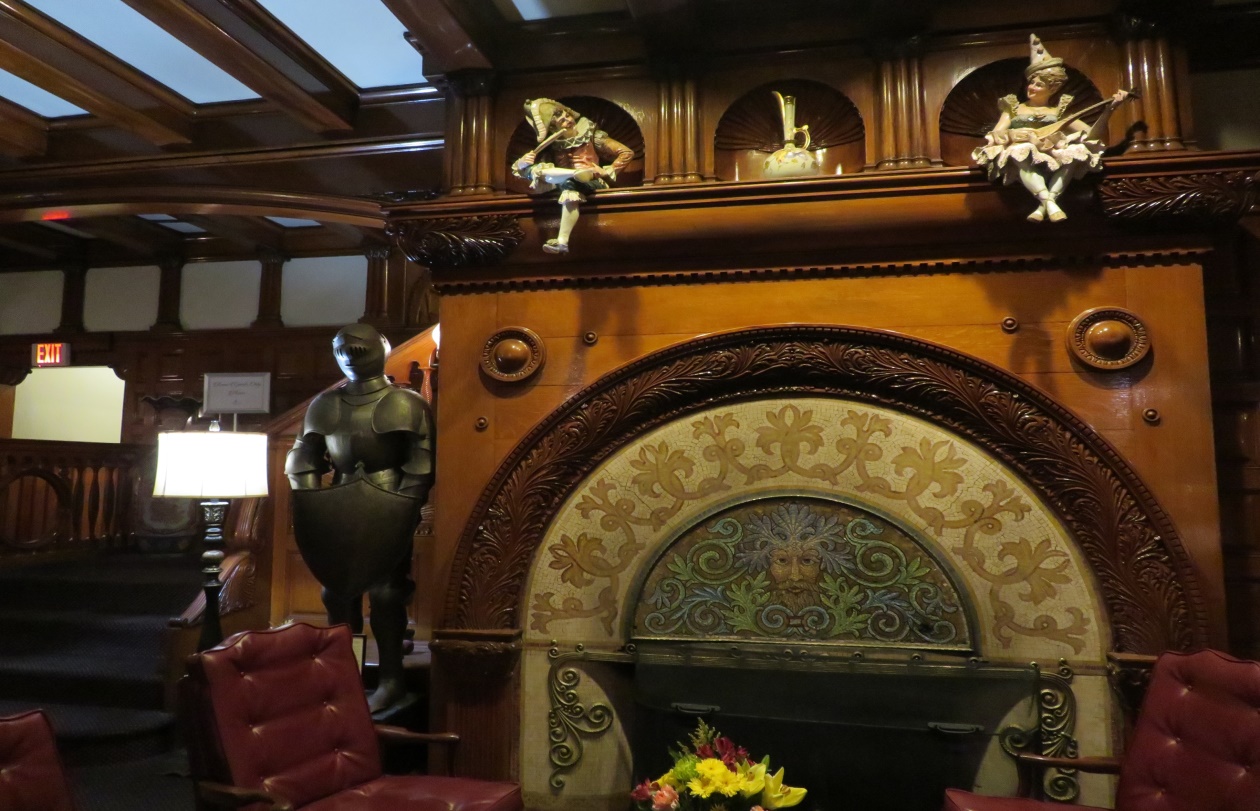 Belhurst actually has two places to eat inside. One is the Stonecutter's Tavern for pub-style food, and the other is Edgar's Restaurant for fine dining. Even though it was pleasant outside, it was getting dark, and since we still had a few minutes before our reservations for Edgar's, we went to the bar and ordered a Moscato and a Prosecco, to further stimulate our palette. At last we were called and were led to a table next to a large window which overlooked the lawn and lake. White tablecloths were on the tables, and red napkins matched the chairs, the carpet, and the outdoor awning, which went well with the mauve woodwork and natural stone walls.
It was tough to choose from their well-designed choice of menu items, as everything looked of interest, but at last we made our decision. My husband ordered the Dwyer's roasted duck breast with a blueberry balsamic reduction, cheddar mashed potatoes and bacon roasted Brussels sprouts. I had the orange blossom honey salmon with a lemon-banana pepper risotto and asparagus, but it looked and tasted more like sun-dried tomatoes in the risotto. Both were sensational. Since we had not had an appetizer, we justified ordering dessert. My husband had a chocolate caramel brownie with ice cream, which was rich and satisfying. I had a slice of carrot cake with some caramel sauce, which was perfectly layered and had a nice tangy frosting. Everything was delicious. We declared it the best meal on our vacation and we left arm in arm with smiles on our faces.