Bistrot de L'oulette – 38 Rue des Tournelles, 75004 Paris, France
We located Bistrot de L'oulette with its red painted front on rue des Tournelles between the Place de la Bastille and Place des Vosges in the Marais area, looking for a pleasant place to enjoy our last trip's dinner in Paris. They are open for lunch from noon to 2:30 and then closed until 7:00 pm. We arrived a few minutes just before they reopened so that our chances of getting in for dinner were best. The front window has stickers showing that L'oulette has won many awards. There is also an outdoor chalkboard giving hours and specials.
Exactly at 7:00 we were ushered in and given a table with white linen and candlelight. The room has a maroon wainscot and the walls are painted a creamy salmon. There is a shining copper rail at the front bar, and wine posters, maps, and pictures of old Paris are scattered across the walls, lending a true Parisian bistro ambiance. Reserving is wise as it is a small restaurant with two small rooms having less than a dozen tables. The chef stood in the small kitchen in the back of the room smiling, awaiting our order. A low counter at the kitchen, allows the patrons to enjoy watching the chef at work. For each customer a chalkboard is presented angled on a nearby chair for viewing of the daily specials of an appetizer, main course, and dessert, but a printed menu is also given with a complete menu. Chef Sylvain Tracard has diligently conceived the menu offerings, with seasonal changes.
We began with two glasses of their Domain Tariquest 2014, which was a perfect beginning for our meal. An amuse bouche was placed before us to start, an herbed mushroom pate on toast, in honor of the mushroom season, and fresh sliced bread followed. Their offered 36-euro menu with choices for three courses is quite ample, and one of the bistro's great draws. We made our choices and sat back to enjoy our evening. Within 30-minutes all the tables were full even though it was only a Monday night. It draws an International crowd, as we heard French, English, Japanese, German, and Chinese. most likely from its excellent reviews, and we soon found out why.
For starters my husband enjoyed with great delight the foie gras confit duck in thick slices, fanned upon the plate and served with a spiced wine and fig compote, with toast for spreading on the rich buttery soft mixture. I enjoyed the eggplant tart with tomato. It was beautifully displayed, resting on a few layers of phyllo dough and layered with pureed eggplant and cooked tomatoes, topped with the Gruyere-like Cantal cheese melted over it. It was so delicate and flavorful that I rolled my eyes in delight.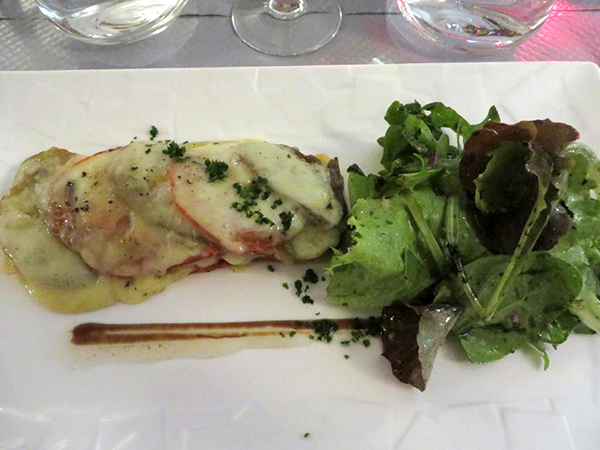 Two more glasses of wine were ordered to go with our main courses. My husband had the tender and succulent roasted duck breast with Banyuls sauce. Banyuls wine is the sweet rich red wine from the Languedoc-Roussillon area of southern France, though mixed with the duck juices was not as sweet as it was rich and full-bodied. While Chef Tracard might specialize in foods of the southwest, he is good to include the southeast as well with this special wine. The duck was also served with flavorful mashed potatoes. I had the vegetarian offering of a phyllo pastry filled with spinach and cheese. Think spanakopita, but instead of being formed into small triangles, it was thick and round, and the goat cheese was flavorful, luscious, and melted in my mouth. It was served with a lightly dressed salad of young lettuce leaves.
Dessert arrived and we enjoyed every bite. My husband had the rounded molten chocolate fudge cake with a thick raspberry sauce center that perfectly oozed out upon slicing into it. I had the almond paste tart covered in whipped cream and topped by a pile of fresh sliced black fig. Whereas the chocolate was an intense and heavier finish, the tart was nutty, fruity and light. The presentation, the service, and the food were exquisite, so we were very happy with our last meal in Paris on this trip. Bistrot de L'oulette definitely deserves a repeat visit. Next time, it's the goat cheese and shrimp salad, the guinea fowl, and caramelized apple crisp with Armagnac, which we heard our nearby patrons exalt.