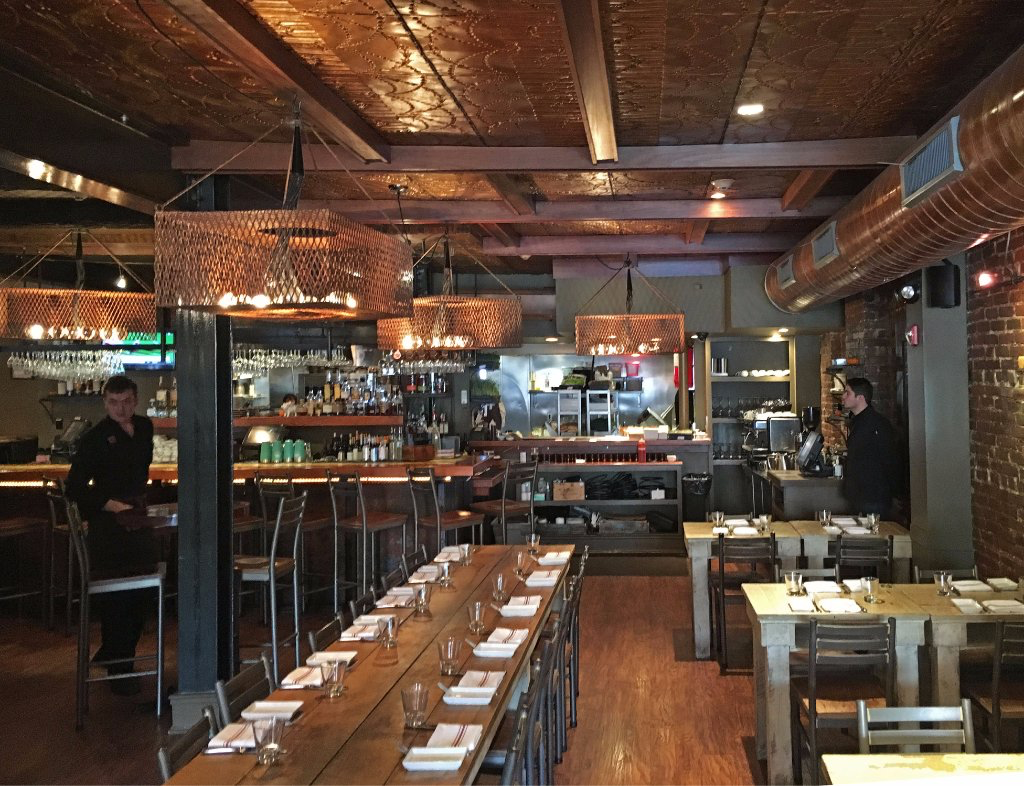 When we were visiting Saratoga Springs, we decided to dine at the Boca Bistro. The menu looked good, but I wasn't sure about the description on their website. I can understand stylistic accents, Mediterranean influences, and Spanish cuisine. I love Spanish food and spent several months living in Malaga. But to describe their food as "a mosaic of earthen and distressed textures"? Earthen means having a structure or floor made of compressed earth or something having an earthly existence, but I think it would be better to say "earthy". And would anyone really want to experience a distressed texture? A distressed texture means that something has been "intentionally destroyed or manipulated to look less than perfect." Aside from the written description that they would do better to rewrite, I would not judge their food on words, only with my palette.
Boca Bistro has a warm, dark wood interior with copper accents, which went well with the red-orange brick walls. It was especially surprising to see design-imprinted copper sheeting on the ceiling and the unusual square copper cage-like hanging lights. The bar was wooden with an insert of what looked like poured epoxy of a warm yellow color which was effectively lit from below. The chairs were simple wooden seats and the dining tables were converted old doors. In fact, old doors lined one of the side walls, and the other side wall had mirrors which reflected the doors.
When we entered, the bistro was already crowded, but the atmosphere was convivial. It was tough to decide, but we ended up ordering a selection of appetizers instead of a full dinner. We were brought a small bowl of assorted olives, which I could not resist and almost ate all of them. My husband ordered several things: the bacon-wrapped dates, devilled eggs with bacon, and the pork belly. My husband is highly critical about bacon-wrapped dates since I have made them for him for years. He commented to me that the dates were too small and there was too much bacon wrapped around them, which made them more salty then having a balance of sweet and salty. They would do better to use larger Medjool dates and only wrap the date once with bacon. The devilled eggs were good with the addition of bacon pieces. The menu describes the pork belly as being fennel roasted with butternut squash puree, bacon jam, apple parsnip chips and cider glaze, but it came on cabbage, and my husband said the seasoned sauce on the pork belly burned his lips.
I ordered the goat cheese salad of Bibb lettuce, toasted pine nuts, roasted shallots, black mission fig and brûléed Cana de Cabra, served with a quince vinaigrette, which I followed up with fried artichokes. I loved the salad, but the two tiny pieces of fig and the single slice of goat cheese were not enough for the plate to balance the flavors. Having spent a lot of time in Europe and adoring the availability of fried artichokes I could not resist. They may have been deep-fried in white truffle oil, but I could not discern any truffle flavor. The side of creamed cheese was a nice addition, but I could not detect any horseradish aioli with it. I don't like horseradish, so if it was present it was of miniscule amount.
Despite the few seemingly negative comments above, over all we enjoyed the food and atmosphere. We also thought it was great that they support local farms by purchasing from them. If we return to the area, we would like to pay another visit to Boca Bistro and try other things.