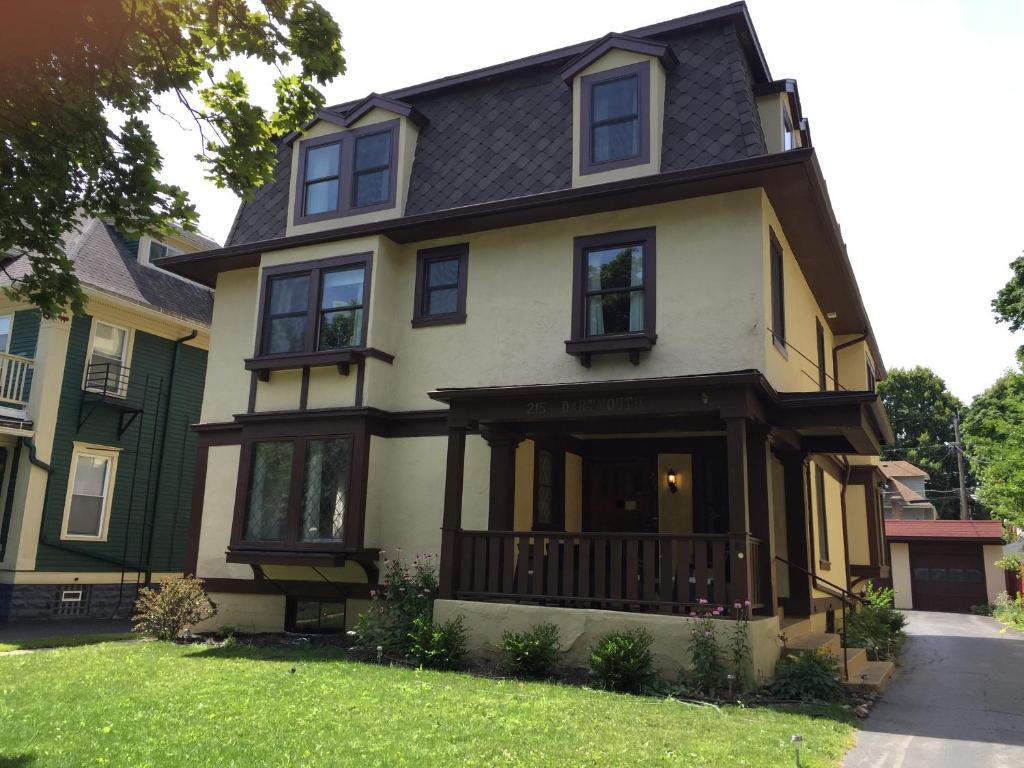 While visiting Rochester, New York, where my husband's grandparents once lived, and where their house still stands, we stayed at the Dartmouth House. It was built in 1905, suffered a fire in 2012, but reopened as a B&B in 2015. Having found the three story English Tudor house painted in brown and yellow, we pulled into the narrow side driveway that went to the back of the house. Space allows for two cars to park to the left and a third in front of the garage, though someone had created a fourth space by parking on the lawn between them. One of the parking spaces has a Tesla charging station (they will charge you for this), and there is additional parking on the street.
Like many B&Bs, during the Covid years, we were sent an entry code ahead of time to enter, with a vestibule before the front door. The front porch was wide with rattan seating. When we entered, we were greeted by Milena and Gary, who run the house. After we entered, a moderate size living room with a leather couch and chairs was to the left, and a stairway led to the second level of rooms.
Our room had a plaque that named it the Nightshade Room, although on their website it is called the Hemlock Room. It seemed a bit odd, especially since the other rooms are named after different New York towns. Granted, each plant has a pretty flower, one purple and the other white, respectfully, but having a room named after a poisonous flower seemed incongruous and peculiar. Nonetheless, it was an ample-size room of 300 square feet with a king-size four poster bed, with dual aspect large windows, and a mirrored dresser. The bathroom was different with three panels of glass that shielded the shower from the toilet and sink, but inside the shower was a freestanding clawfoot tub with a rain shower head. While unique in offering either bathing option, it was difficult to stand in the tub and shower as the tub did not offer much of an area to stand in, and its smooth base was slippery. This setup also seemed be in the Canandaigua and Honeoye rooms. They do note on their website that these rooms with this bathing option are not recommended for guests with mobility issues.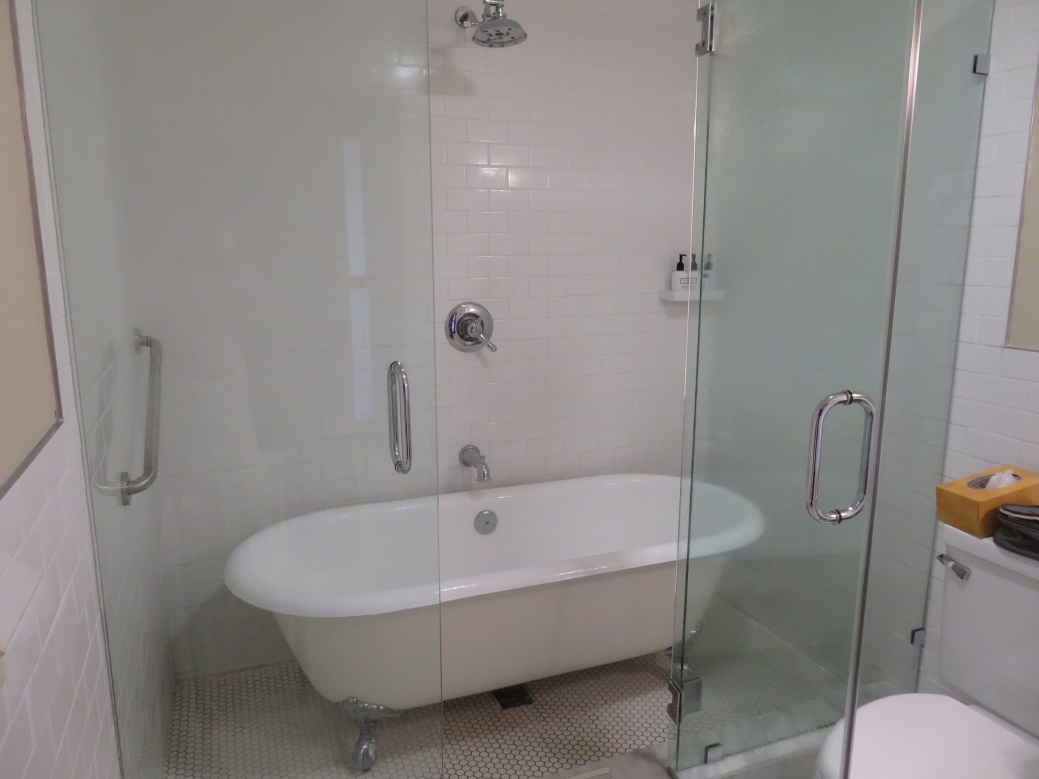 Like most other guest rooms in the house, it had a white oak hardwood floor and Kazak rug, and the benefit of a mini refrigerator. Beige walls without any hanging art made the room seem pretty basic. The rug was the only artistic aspect to the room. A note here to the owners, the footboard of that poster bed is pretty loose and wobbly. It needs tightening. I meant to tell you that before leaving, but forgot.
At the base of the stairs, the dining room is to the left, back from the entry. We were downstairs for our 9:00 a.m. breakfast and found the table nicely set with white linen and fine china. Two other couples were also dining. We could hear both Milena and Gary clearly chatting away in the kitchen, but neither came out to greet us. After six minutes, I had to go into the kitchen and ask for tea to get their attention. Milena did freshly brew a 2-cup glass vessel, which she brought out with a sweet bran muffin. The options were a vegetarian quiche and an egg with ham. Again, it seemed quite a while for just cutting a piece of quiche and frying an egg; so after ten minutes, I carried in our muffin plates and stirred her memory, which resulted in two plates in less than a minute after that. The plate was a bit puzzling with a dressed green salad next to our eggs for a breakfast. The quiche crust was too pale, thin and tasteless. A pâte brisée short crust would have been the better choice, and even an egg or butter would have given the crust a better flavor. We both left the salad and crust on our plates. I can't imagine very many people would want salad for breakfast. Fresh fruit would have been more appropriate.
Regardless of the oddities, the place was clean and the hosts were kind.