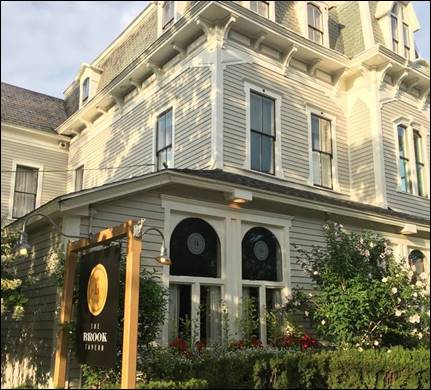 The Brook Tavern in the heart of Saratoga Springs, is in a converted 1800s horse carriage factory, turned home and then restaurant with indoor and patio dining.
It seemed to have a good balance of both casual dining with wood-topped tables and formal dining options with white table cloths. The wooden bar was long and full of people, and a cozy light reflected off the tin tiles on some of the walls. As we were waiting for our order, we could not help but notice that the plates served around us seemed to have more than ample portions.
We had had a substantial lunch, so I was not hungry enough to order a large dinner, and instead had the French onion soup. Usually, French onion soups have a minimum of onion and beef stock flavor, which often prompts me to order a glass of rich red wine to pour into it. But this soup was full of onion, a rich beef stock and a tangy cheese that made it a delicious dinner all to itself.
My husband had the crispy duck with a potato hash and sweet and sour Brussels sprouts. He really enjoyed the duck and licked his fingers. Afterward, we decided to split a piece of coconut cream pie, and thoroughly enjoyed it, too.
The food and ambiance were very good. It was nice to see that they have a good wine selection, they offer music entertainment on Tuesday nights, and they give to charitable organizations with donation receipts. Know that they are closed on Sundays and Mondays, and stop serving at 9:00 p.m.