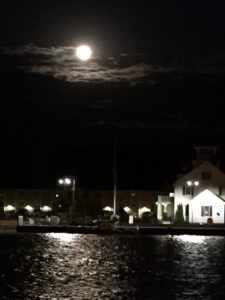 My husband and I were passing through Rochester and suddenly got hungry. Then we saw the Windjammer and went in. A dozen or so men in the small front part of the bar and grill were watching a football game, so we asked for a table in the back.
Our waitress smiled in sympathy and guided us to a back table and sat us with menus to browse through. When we had finally decided, she came back. As I was telling her what I wanted, I was suddenly taken by the intoxicating scent that she was wearing. I had to say something and told her. Then she launched into who she got it from locally and what was in it. We continued to carry on our private conversation and then we both realized that my husband had not yet had a chance to give his order. We laughed about getting carried away, but he just stared in surprise at both of us. She finally took his order. While waiting for our food, she returned to the table with the bottle of essential oil and said I could put some on, which I promptly placed on both my wrists. I could not stop smelling the scent. She smiled.
Anyway, this is a food review, so I will say that I ordered the homemade crab cakes with a tartar remoulade, and a side of sautéed French onions and potatoes. My husband had the western grilled chicken sandwich with barbecue sauce, melted cheddar cheese and bacon. The chicken breast had been pressed flat and ended up being twice the size of the bun. Neither of us could eat all that we were given, but both meals were excellent. The grill also had a very good root beer.
I am so sorry I did not get the woman's name, but if she ever reads this review, I would love to get some of that oil.