[New for 2022, three more recipes are being shared for all three days! The first has just been posted in honor of Nuit: Stuffed Boursin Chicken.]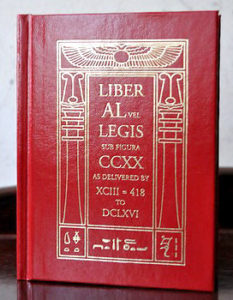 Thelemites worldwide celebrate the Three Days of the Writing of the Book of the Law annually each April 8th, 9th & 10th.
The Thelemic Calendar begins in 1904, the year in which Aleister Crowley received The Book of the Law and inaugurated the New Aeon of Horus. The official holy days of Thelema are set forth in The Book of the Law and specific dates attributed to them are given in Crowley's commentaries. Over these three days in April 1904 e.v., Crowley received the three chapters of The Book of the Law. Today, these holy days are typically celebrated with readings of each chapter on its respective day.
The 'Feasts for the Three Days of the Writing of the Book of the Law' created by Lita-Luise Chappell in The Thelemic Cookbook employ elemental principles for those wishing to incorporate magical correspondences into their ritual meals. The book features specialized menus for each of the Three Days celebrating the goddess Nuit, and gods Hadit and Ra-Hoor-Khuit.
In honor of the upcoming Holy Days, a sampling of these feast's menus and recipes from the book have been posted. Follow the links below for a taste from all three days:
The First Day ~ Recipes For Nuit
The Second Day ~ Recipes For Hadit
The Third Day ~ Recipes For Ra Hoor Khuit