There's a new 5-Star review on Amazon for Sticks and Balls: A Sexologist Pokes Fun at Sports!

"A Home Run!"
Review by Lilah Shahkhor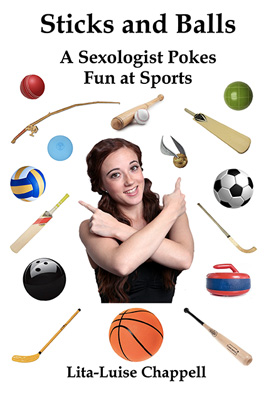 Sticks and Balls: A Sexologist Pokes Fun at Sports is a rare delight for sports enthusiasts and linguistics lovers alike. Encyclopedic in scope and style, this book is about the duality of words in sports that also have a sexual meaning. Those who are curious about oddities and quirks of the English language will find this study fascinating, whether or not they have any interest in sports. As the author points out in her introduction, the list of terms for just about every sport abounds with sexual innuendo and slang, but especially those games that are played with either a stick or a ball, or both. This is so ingrained in the lingo of sports, and in turn, sports terminology has made it full circle back into our everyday common speech.
Sticks and Balls starts off with a broad look at the development and history of sports, and answers such questions as 'Why Do Sports Get Us Off?'. Such potentially raunchy topics are handled seriously, but not without humor, as in the section on the 'Hormones that Sports and Sexuality Share'. Lita-Luise Chappell is a sexologist, now retired, with bachelor and master degrees in psychology and health education, certifications in hypnotherapy, neurolinguistics, erotology, sex education, clinical sexology, and a doctorate in human sexuality. Her background and expertise lend a jocular aplomb to teaching us what amines, peptides, and steroids have to do with making us athletic, as well as horny. Her handling of the prurient content brings a fun approach to what some might consider to be embarrassing subjects; the discussion is straight forward and scholarly, all with the occasional wink and a nod, and all puns intended.
Next, the book delves into the individual sports and their sex-related terms, broken down by sports that use sticks (Archery, Curling, Darts, Fishing, Ice Hockey, Pole Vault, Shuffleboard, Quarterstaff), sports played with balls (Basketball, Bocce, Bowling, Dodgeball, Football, Handball, Kickball, Rugby, Soccer, Volleyball), sports with both sticks & balls (Bandy, Baseball, Billiards, Cricket, Croquet, Golf, Hurling/Camogie, Lacrosse, Polo, Quidditch, Rounders, Shinty), followed by racket & paddle games (Badminton, Table Tennis (aka Ping Pong), Racquetball, Squash, Tennis). Once you make it through this section, you'll never think of phrases such as 'home run', 'bases loaded', 'double header', 'switch hitter', 'hat trick' or 'grand slam' again without blushing! While not intentionally titillating, make no mistake about it, Sticks and Balls is filled with graphic definitions of words and phrases you'd never use in front of your mother.
The book finishes up with extensive indices of slang words relating to sexual anatomy and activities, along with a bibliography and source lists. This is a bevy of information on the evolution of dirty words, colloquialisms, and semantics.
I am one of those people described at the beginning of this review who have no interest in sports, but this did not detract from my appreciation of what the author has done with this in-depth look at its vernacular. Even more interesting to me than the actual words that connect sex and sports is the overarching idea that we humans have an unconscious need to insert sexuality into everything we do… including ping pong.